For Christmas I got a Smith & Wesson M&P 15-22 (it's a 22LR).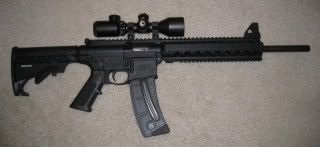 I thought I'd go ahead and get a 22 to make it a little cheaper to go shooting. At first I looked at the standard 10/22 and the Marlin and Remington models. My father-in-law offered to sell me his
Henry Golden Boy
as well. I saw the M&P online so we went down to Cabela's to check one out. And you know the rest of the story.
In other exciting gun news; Kaci bought Nunnrey his first gun...a Red Ryder BB Gun. Hopefully he hasn't shot his eye out with it yet.